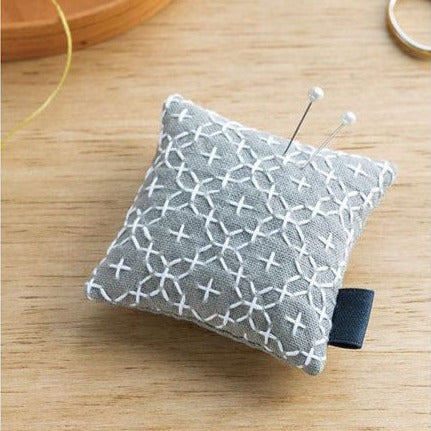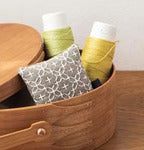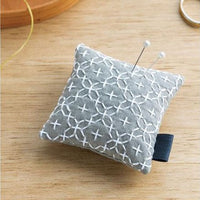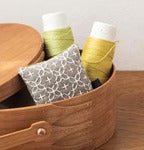 Sashiko Pin Cushion Kit, Gray
Practice traditional Japanese needlework with this compact project. It's excellent for beginners!
Simply stitch over the printed pattern with needle and thread to create a textured sashiko-style pin cushion. The ink lines disappear when washed, leaving only your intricate stitchwork.

"Sashiko" is a type of practical needlework that was used in people's lives in the days when cloth was extremely valuable. The sashiko stitches reinforced the layers of cloth adding warmth to the wearer and longevity to the garment. Nowadays, sashiko is more often used as decorative stitching. There are a wide variety of fabrics and threads available, and stitching to various designs is the primary attraction.
This kit is recommended for beginners who want to learn sashiko stitching and basic hand stitching techniques.
This starter set includes:
Pre-printed cotton cloth with a washable, disappearing ink
Sashiko needle and sashiko thread
Sewing needle, needle threader, and sewing thread
Wadding
Instruction manual written in Japanese, but with step-by-step illustrations
What you'll need:
Scissors
Ruler
Sewing pins

Iron
Cotton swab 
Dimensions of finished pin cushion: ~3" x 3" (7cm x 7cm)
Made in Japan