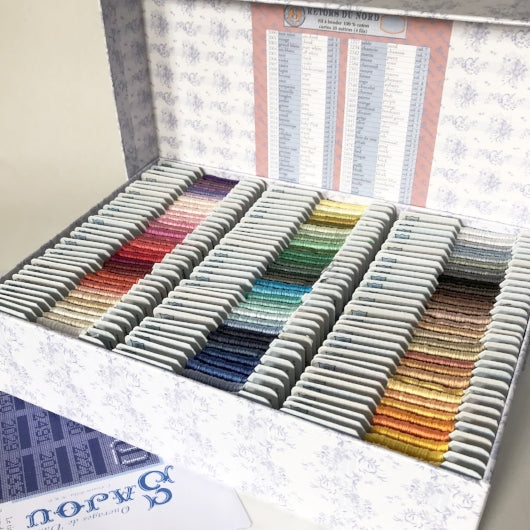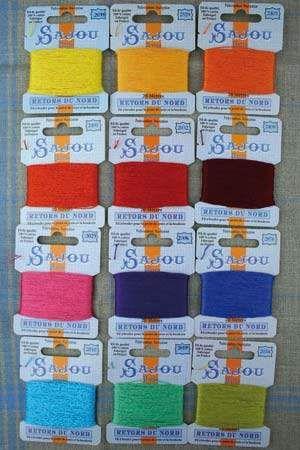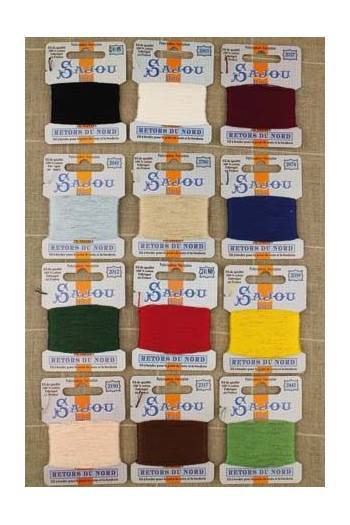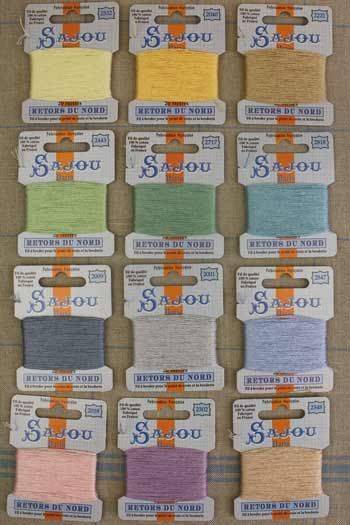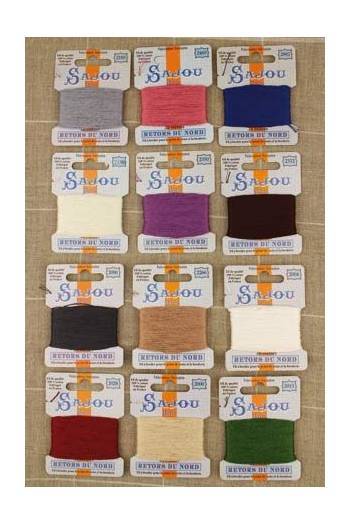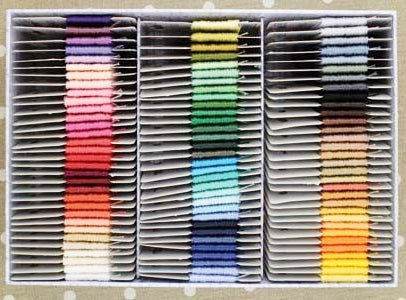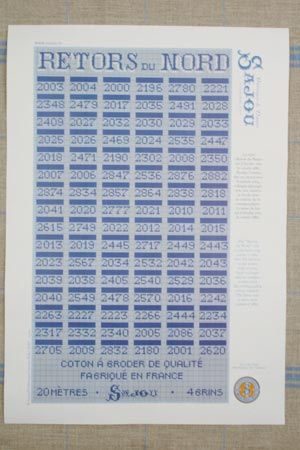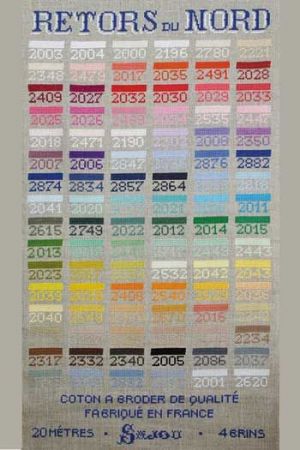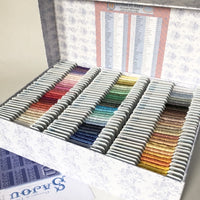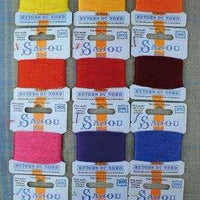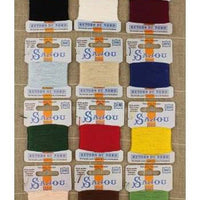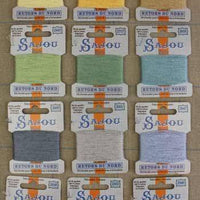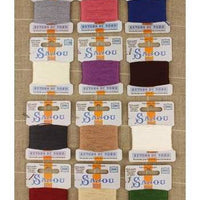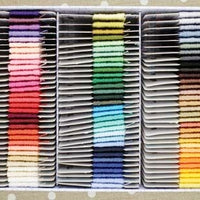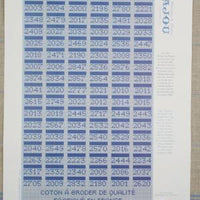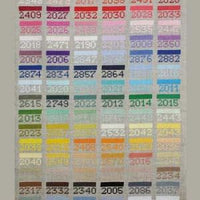 Retors du Nord Cotton Embroidery Thread Collections
The Retors du Nord cotton embroidery thread comes in four separable strands and can be used as any other embroidery thread. By comparison, It is slightly finer than DMC's stranded cotton. It is also slightly shinier and slides better. 
Complete Collection: 96 different colors of thread on cards. It comes with a large pattern chart which will enable you to embroider a marvelous vintage-style color chart — work of art worthy of its place in the home of all embroiderers! Inside is a label with numbers and names of the thread colors. Size of box: 29.5 cm long - 21 cm wide - 7.5 cm high.
The smaller collections have 12 cards each in a box that is entirely covered inside and out with blue paper. Size of box: length 15cm - width 12cm - heigh 5cm. The colors in the collections are: 
No. 1 Vintage: 2266 (deer), 2445 (olive), 2469 (rosewood), 2409 (bordeaux), 2350 (purple), 2882 (sapphire), 2332 (auburn), 2005 (black), 2190 (candyfloss), 2180 (metal), 2004 (off white) et 2196 (ivory)
No. 2 Modern: 2405 (orange), 2010 (azure), 2039 (sun), 2019 (spring), 2025 (peony), 2032 (andrinople), 2491 (brick), 2006 (violet), 2409 (bordeaux), 2876 (agate), 2529 (gold) et 2034 (moss)
No. 3 Essential: 2030 (red), 2003 (pure white), 2039 (sun), 2190 (candyfloss), 2445 (olive), 2012 (bottle), 2221 (caramel), 2409 (bordeaux), 2317 (pheasant), 2876 (agate), 2847 (pale blue) et 2005 (black)
No. 4 Pastel: 2532 (straw), 2040 (dawn), 2221 (caramel), 2443 (pasel green), 2818 (gobelin blue), 2717 (jade), 2009 (mist), 2001 (cloud), 2018 (baby pink), 2847 (pale blue), 2348 (flesh) and 2302 (mauve)
Dimensions: 7cm x 9cm. Each card has 20m of 4-strand floss.

For ecological reasons, Retors du Nord embroidery floss is not colorfast. To make a thread colorfast involves using highly-polluting treatments, which are in our opinion, totally unjustified for embroidery purposes. However, it can be washed up to 104°F/ 40°C -- just be careful never to use boiling water or bleach.
Made in France
You can view and purchase the individual colors of this thread here.