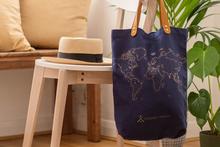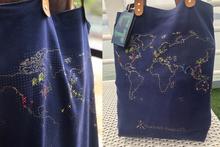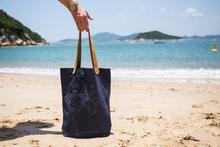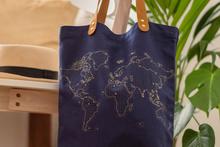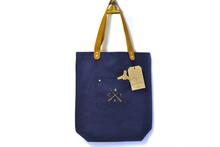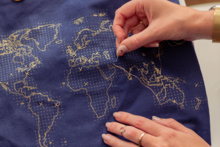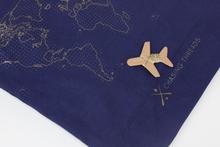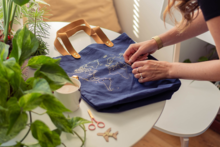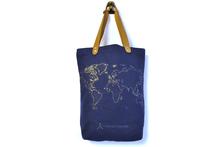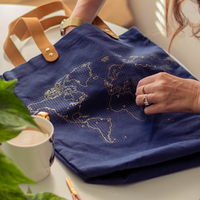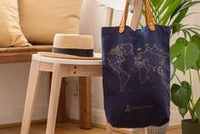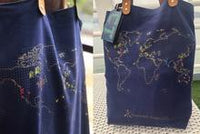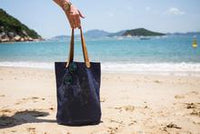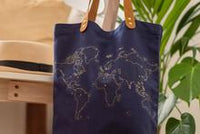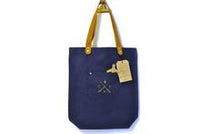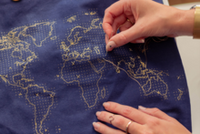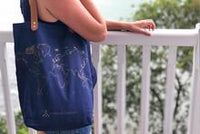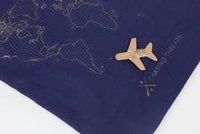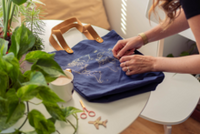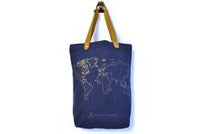 Map Travel Tote DIY Kit, Navy
Navy
Show off where you've traveled on this 'Stitch where you've been' canvas tote bag.
Beautiful navy canvas printed in gold with the world map, this tote bag also comes with 'travel' needle & thread that you can use to record your global travels. Stitch crosses, arrows or hearts to mark the places you've visited!
A great sized bag, to take on travels (or to the shop!) and continue to personalize with crosses to show off your latest globe-trotting credentials!
Made from 100% cotton canvas with real leather brown handles, gold stud, and exterior pocket detail. This is the perfect stylish bag for taking on adventures, large and small!
This sturdy & durable bag was built to last and will easily carry a heavy load of shopping or weekend get-away kit. The soft leather handles feel great and the luxe gold print against navy makes for a more sophisticated day-to-day bag. 
The Navy Tote Bag comes with gold metallic thread on a cute airplane thread board with 1 needle, and a swing tag with kit description (so it is perfect for gifting!). 
Use your own threads to add additional colors, if you like.
Makes an ideal gift for loved ones off on a new adventure... 
Dimensions: 14.5" x 16" x 4"  (37 x 40 x 10 cm)
Care: To avoid damage to the leather handles the manufacturer recommends hand washing the cotton bag.