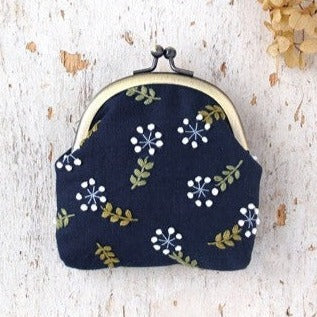 Floral Gamaguchi Clasp Pouch DIY Kit, Blue
The gamaguchi purse is perfect for coins or other small sundries. "Gamaguchi" translates to "frog's mouth", as the metal clasp opens in a similar way.
This embroidery kit features fresh plants, trees, and flowers in nostalgic tones.
The kit comes with a printed pattern on the fabric, so you can start embroidering right away.
It can also be sewn by hand, making it suitable for those who do not have a sewing machine.

Finished size:
Approx. 3.9" (length) x 3.1" (width) x 0.8" (gusset width)
[10 cm (length) x 8 cm (width) x 2 cm (gusset width)]
Contains:

Clasp
Cosmo No. 25 embroidery thread
Printed embroidery cloth

Paper string, hook and loop, paper pattern
Embroidery needle
Instruction manual with clear multi-step diagrams, but the text is only in Japanese 

(We use Google Translate on our phone to read it)
Made in Japan