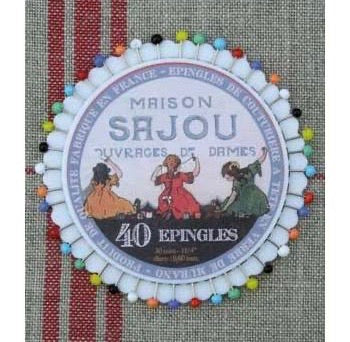 Glass Head Pin Rosettes--Three Girls
Glass-headed pins are the result of an ingenious process: the pins are placed on a rotating wheel. Above this wheel is a rod of colored glass, which is melted by means of a sort of blowtorch. On the rotating wheel, each pin picks up a drop of molten glass. This traditional method is the reason the pin heads are not all exactly the same size. The glass rose comes from Murano, this world-renowned city famous for the production of colored glass.
Each pack contains 40 Murano glass headed dressmakers pins
Dimensons:
Rosette has a diameter of 7.5cm

Pins – length is 30mm, diameter is 0.60mm
Sajou produces haberdashery items made in France to the highest standards (in some cases even produced on the original old machinery). Perfect for gifts and collectors, and for those of you unable to resist a quality that is seldom found in today's mass produced haberdashery products. Sajou was created in 1828 by Jaques- Simon Sajou, selling haberdashery for embroidery, tapestry, lace, crochet and weaving. 
Made in France