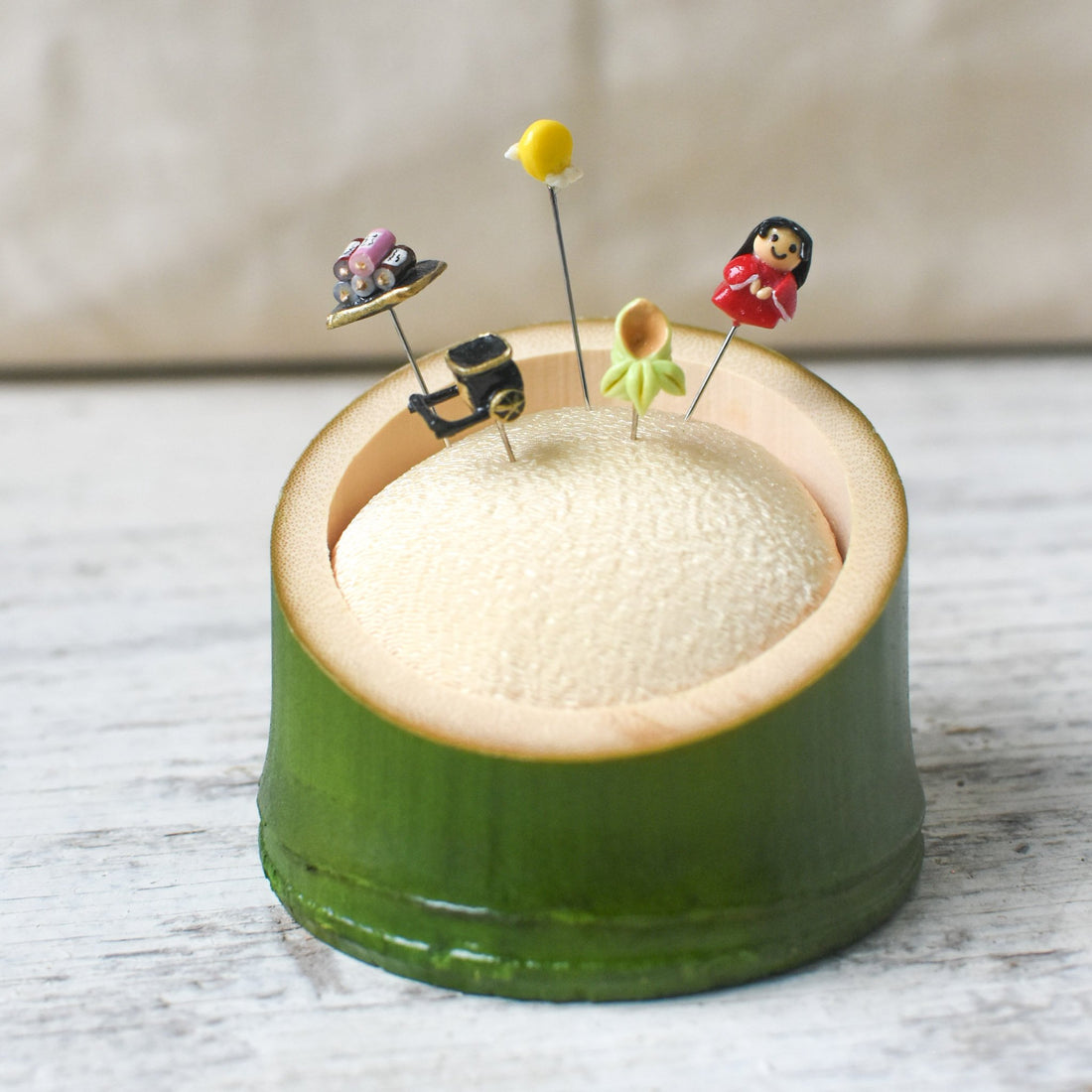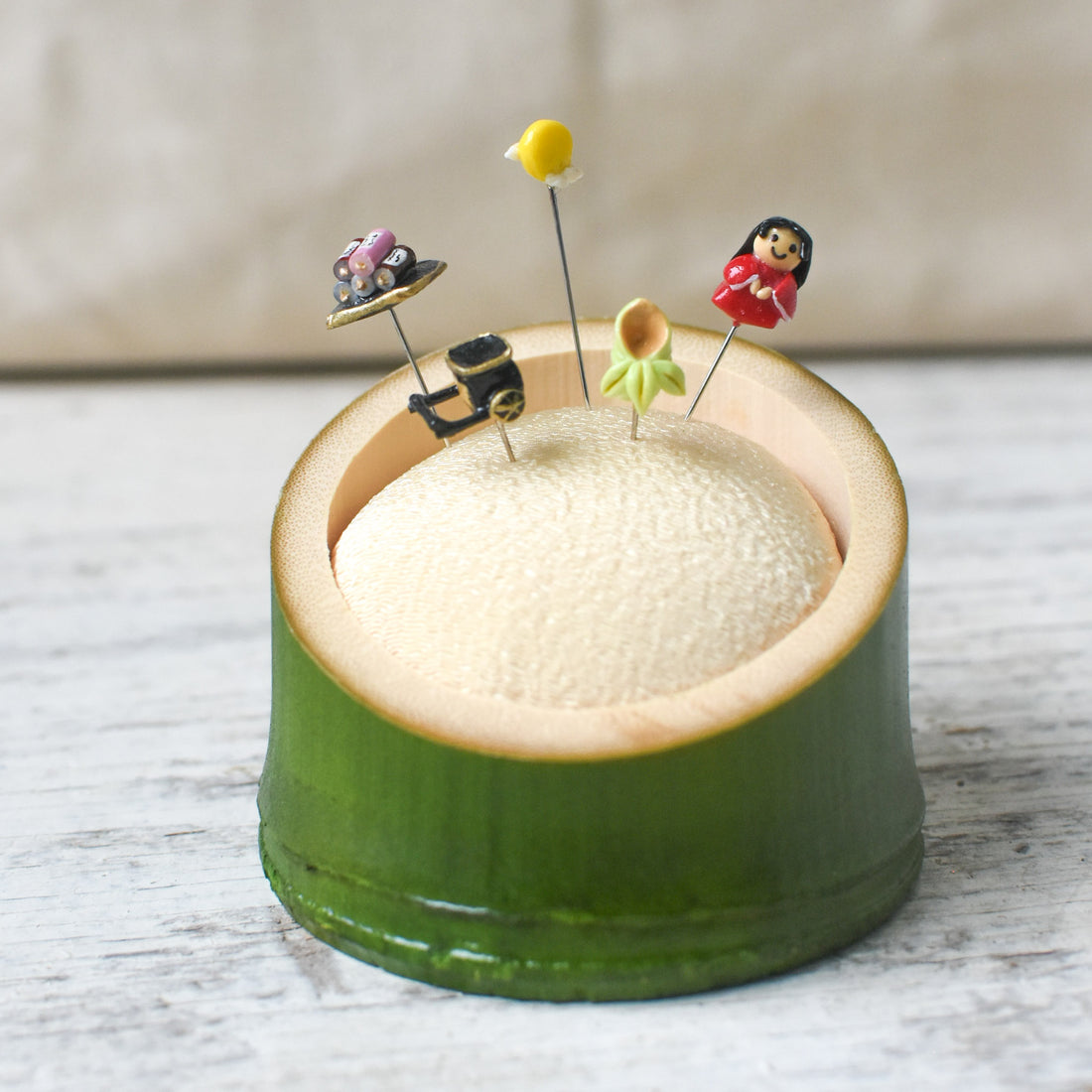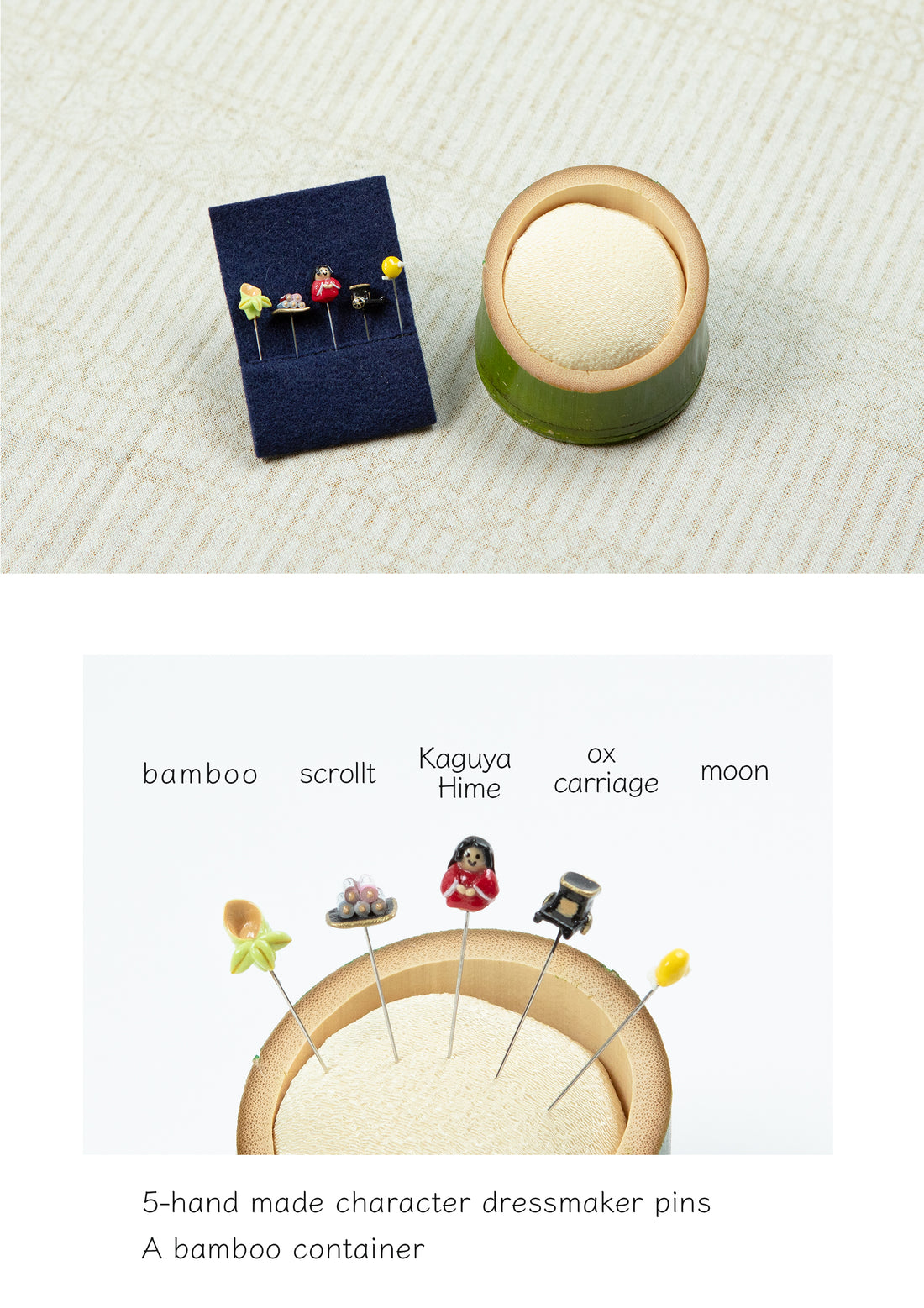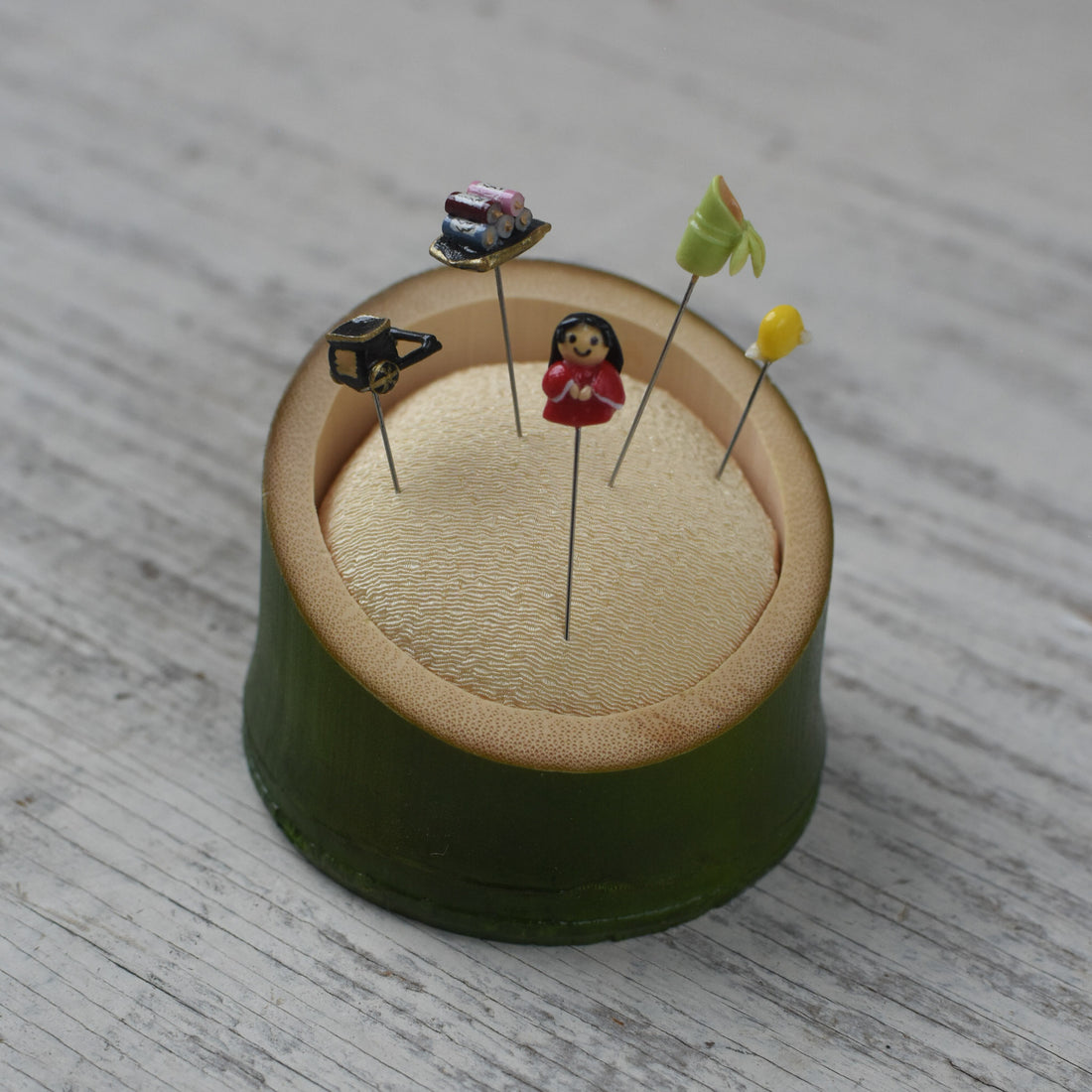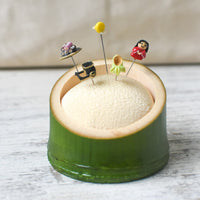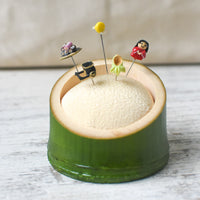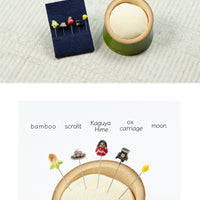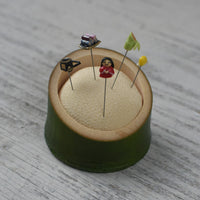 Princess Kaguya Folktale Pin Cushion
This set of pins and pin cushion is based on the story of Princess Kaguya, a.k.a. the Bamboo Princess. It's one of the most famous Japanese fairy tales.
Each set has 5 pins decorated with the symbolic motifs of the folktale in a pin cushion. This pin cushion uses a regional Noto fabric in a natural bamboo container. Pins are made one by one of resin. All elements are made by hand. 

It is presented in a box and comes with a small illustrated scroll of the story. 
Dimensions: 55 mm x 42 mm
Each pin cushion and set of pins comes boxed with an illustrated scroll with the folktale written in Japanese. It also includes a version of the folktale in English. 
The Japanese tale 竹取物語 (Taketori-Monogatari = "Tale of the Bamboo Cutter") is considered the first Japanese narrative, and was written during the early Heian Period (about 900 AD). It tells the story of Princess of the Moon, nowaday widely known as the tale of かぐや姫 (Kaguya-hime = "Princess Kaguya").
The story has been brought into modern popular culture through television and books for centuries. In most recent adaptation was an animated film done by Studio Ghibli, who released The Tale of the Princess Kaguya in 2013, and was nominated for Academy Award for Best Animated Feature.
By the way, in English when we start folktale we say "Once upon a time...", and in Japanese people say "mukashi, mukashi..." which means "long long ago...".
So, mukashi, mukashi...there lived an old man and his wife. One day, when the old man went to the bamboo forest to cut some bamboo, he came across a shining stalk. When he split it open, he found inside it a cute baby girl, and named her Kaguya-hime. The little girl grows up to be a beauty and is courted by many noblemen. However, she refused their marriage proposal... 
Whenever Kaguya-hime saw the full moon, her eyes filled with tears. Because she was not of this world and must return to her people on the Moon. In time to come, the heavenly guards took Kaguya-hime back to the Moon, leaving her earthly foster parents in tears. 
HIRO Co., Ltd., is a company with over 85 years of experience in Kanazawa, Ishikawa Prefecture, Japan. The company collaborate with Kanazawa-based artisans to create the contemporary and playful products for daily life using with the multiple traditional crafts inherited in Kanazawa, Ishikawa, such as the Kutani porcelain and Yamanaka Lacquerware.
Hiro's work with distinct designs adapting traditional craft techniques nourished in Ishikawa Prefecture are very popular in Japan and highly regarded around the world. They are selected in shops associated with museums or art galleries.